Illinois Repeater Association
2020 Annual Meeting Information – Postponed due to COVID-19 Pandemic
SPECIAL NOTICE – 2020 IRA MEETING POSTPONED
We are very sorry to announce the cancellation and postponement of the 2020 Annual IRA General Meeting.  It was scheduled for Saturday, April 4, 2020 in Peoria at Bradley University.  Due to Bradley University's recent policy of moratorium on meetings of 20 persons or more, this unfortunately affects and includes us here at IRA.  We hope to reschedule the annual meeting for later this year, perhaps in July or August.  We will re-evaluate the situation as it develops in the future and we will post any relevant news or any new updated meeting dates here on this page of the IRA website.
Thank you for your understanding and cooperation in this very difficult time, we wish the best of life and health to everyone, especially our IRA family!
This WAS the meeting website prior to cancellation of the meeting.  Hopefully, this will be of future use:
The annual meeting of the Illinois Repeater Association will be held on Saturday, April 4, 2020.  This year, we are meeting at Bradley University in Peoria, at the Michel Student Center, Ballroom A on the 2nd Floor.  Please note that this is a new location from last year's (2019) Annual IRA Meeting, which was held in Champaign.
Bradley University Michel Student Center
915 N Elmwood Ave.
Peoria, IL 61606
(309) 677-3045
IRA Delegate check-ins and any dues payments will start at 9:00 AM, with the meeting starting at 10:00 AM sharp. When dues are paid in advance the check-in process is quicker and eliminates much of the delay. As in the past we anticipate the meeting to conclude around 1:00 PM.
An IRA "Membership Information" form on file listing the delegates (max of two) and signed by the president and/or trustee and showing paid up dues for 2019 are all that are needed to vote at the meeting.
Every vote is important so that your association can effectively represent you in the multi-faceted problems facing the repeater owners of the country and Illinois in particular. Therefore, if you cannot attend this meeting and have no delegate in mind, we suggest that you appoint one of the current officers or directors to be your delegate. If you later decide to attend the meeting the presence of the trustee and/or president suspends any previous delegate appointment and/or written proxy
If you have any questions, concerns or would like to have a subject placed on the agenda please contact the Secretary/Treasurer at the address below or the President, Greg Buchwald.
Many thanks go to the Bradley University Amateur Radio Club, and to our IRA Director and Board Member Stephen Craig, WD9CIR, whose help in securing the facility for the meeting and providing refreshments, setup and clean-up, and to the Bradley University Staff for providing the facilities to us.
<![if !vml]>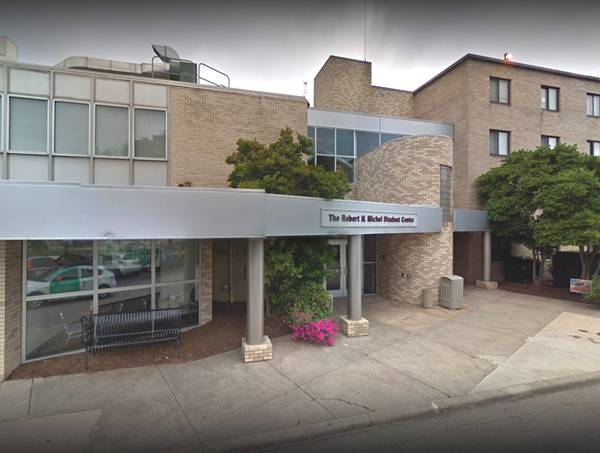 <![endif]><![if !vml]>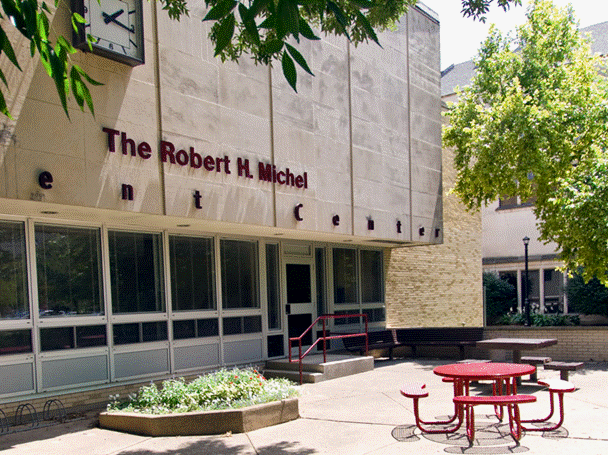 <![endif]>
Michel Student Center - front view looking West from Elmwood Ave., back view is what you will see walking East from the parking lot.
Maps:
<![if !vml]>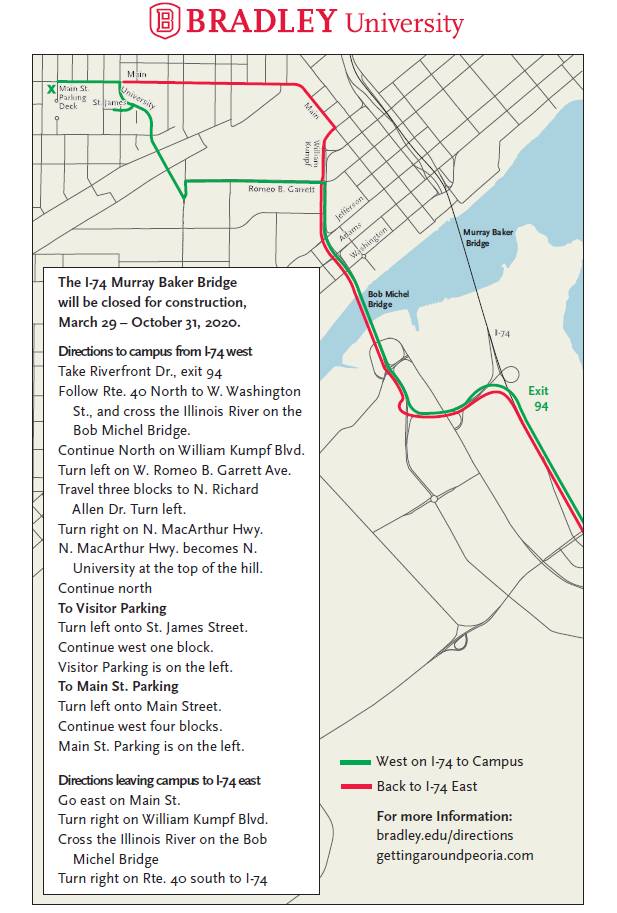 <![endif]><![if !vml]>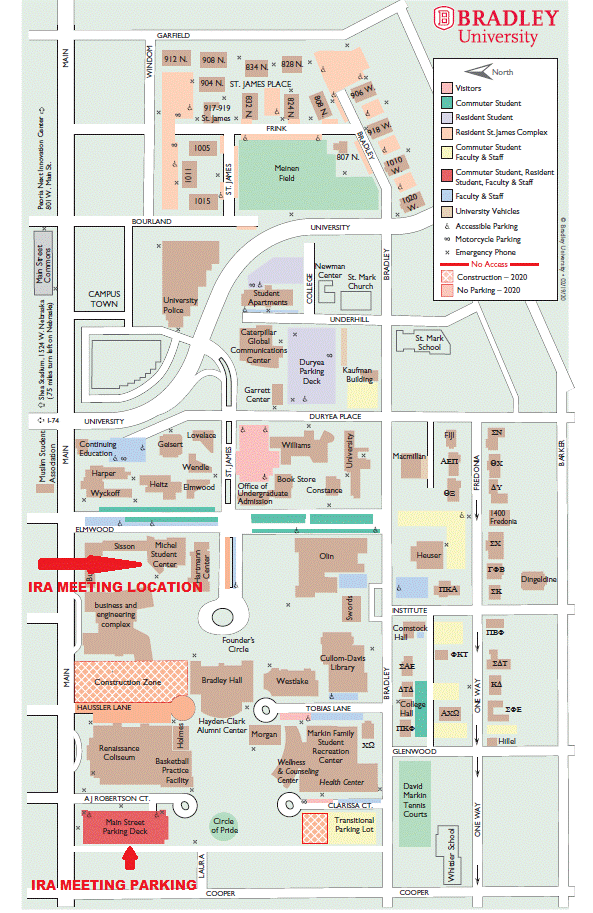 <![endif]>
Directions:
Notice: The I-74 Murray Baker Bridge will be closed for construction, March 29 – October 31, 2020.
Directions to campus from I-74 west:
Take Riverfront Dr., exit 94 .
Follow Rte. 40 North to W. Washington St., and cross the Illinois River on the Bob Michel Bridge.
Continue North on William Kumpf Blvd.
Turn left on W. Romeo B. Garrett Ave.
Travel three blocks to N. Richard Allen Dr. Turn left.
Turn right on N. MacArthur Hwy. (becomes N. University at the top of the hill).
Continue north.
To Main St. Parking
Turn left onto Main Street.
Continue west four blocks.
Main St. Parking is on the left.
Directions leaving campus to I-74 east
Go east on Main St.
Turn right on William Kumpf Blvd.
Cross the Illinois River on the Bob Michel Bridge.
Turn right on Rte. 40 south to I-74.
<![if !vml]>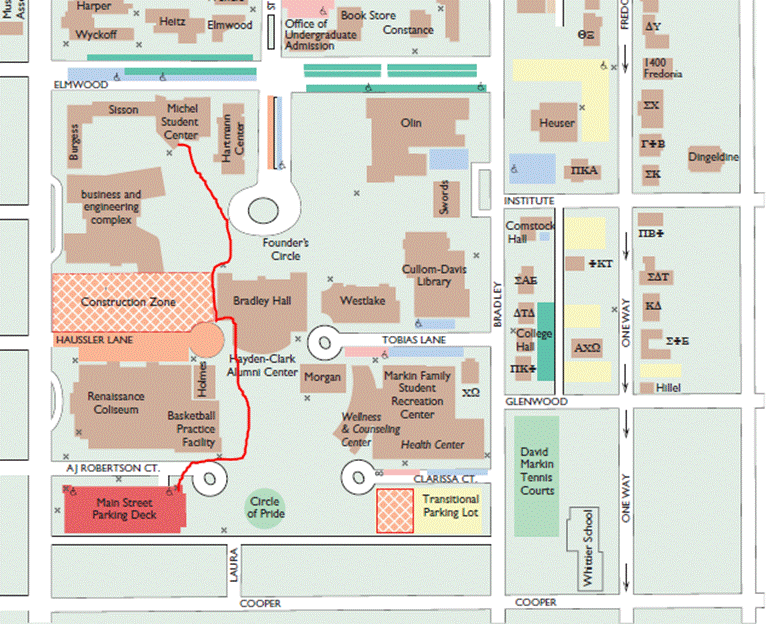 <![endif]>
Directions for walk from Main Street Parking Deck to the IRA Meeting in the Michel Student Center:
Go out of the Parking Deck and walk to the East, past the Renaissance Coliseum on your left.  Then, you'll walk past Bradley Hall on your right.  The Michel Student Center is just past Founder's Circle. Go into the Michel Student Center, and take the elevator to the 2nd Floor.  Student Center Ballroom A is where the IRA Meeting will be.
Will Sperling, W9WSS
ILLINOIS REPEATER ASSOCIATION
IRA Secretary/Treasurer
P.O. Box 40
Westmont, IL 60559-0040
Copyright © 2020 by The Illinois Repeater Association (IRA), All Rights Reserved.